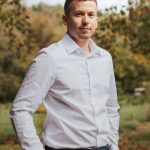 Nick Fitzgerald
Marketing Director
A little bit about me...
Nick Fitzgerald is a Marketing Director for Hometown Realty, currently in his third year of service, and has over a decade of work in the field. He is a dedicated and passionate professional who takes pride in his work and understands the importance of paying attention to every detail in the real estate industry. Nick firmly believes that good marketing is essential to the success of any real estate transaction, and he is committed to ensuring that every property is marketed effectively.
Nick grew up in Kansas, but he has spent over half of his life in Tennessee, where he has developed a deep appreciation for East Tennessee and the beauty of the Smoky Mountains. In addition to his professional pursuits, Nick is a devoted family man with a loving wife and twins. His family keeps him busy around the clock, but he wouldn't have it any other way.