If you're a current homeowner, you should know your net worth just got a big boost. It comes in the form of rising home equity. Equity is the current value of your home minus what you owe on the loan. Today, you're building that equity far faster than you may expect – and this gain is great news for you.
Here's how it happened. Home values are on the rise thanks to low housing supply and high buyer demand. Basically, there aren't enough homes available to meet this high buyer interest, so bidding wars are driving home prices up. When you own a home, the rising prices mean your home is worth more in today's market. And as home values climb, your equity does too. As Dr. Frank Nothaft, Chief Economist at CoreLogic, explains:
"Home prices rose 18% during 2021 in the CoreLogic Home Price Index, the largest annual gain recorded in its 45-year history, generating a big increase in home equity wealth."
The latest Homeowner Equity Insights from CoreLogic shed light on just how much rising home values have boosted homeowner equity. According to that report, the average homeowner's equity has grown by $55,300 over the last 12 months.
Want to know what's happening in your area? Here's a breakdown of the average year-over-year equity growth for each state based on that data.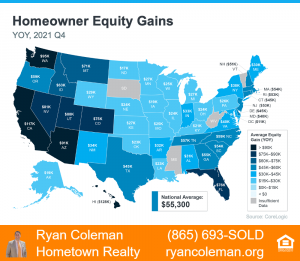 How Rising Equity Impacts You
In addition to building your overall net worth, equity can also help you achieve other goals like buying your next home. It works like this: when you sell your house, the equity you built up comes back to you in the sale.
In a market where you're gaining so much equity, it may be just what you need to cover a large portion – if not all – of the down payment on your next home. So, if you've been holding off on selling and worried about being priced out of your next home because of today's home price appreciation, rest assured your equity can help fuel your move.
Let Us Help You!
Are you looking to buy or sell a home in Knoxville, Tennessee? Please don't hesitate to reach out to Ryan Coleman and our team at Hometown Realty as a trusted source for up-to-date real estate information in the East Tennessee area!
865-693-SOLD
Real Estate With Ryan
👉 In this week's episode, Ryan talks about the process of moving from one state to another! This is something Ryan has first-hand experience on so you're not going to want to miss this information. 👈
🎙 Join Ryan Coleman Broker/Owner of Hometown Realty and host of REWR every Saturday @ 11am on Talk Radio 92.3 / AM 760 WETR and at 1pm on News Talk 98.7 🎙⁠
Be sure to download the Talk Radio and News Talk apps to listen on the go!
Talk Radio: https://apple.co/37q7lAu
News Talk: https://apple.co/3aHkXth
⁠
You can watch past live streams on other Social Media channels:⁠
YouTube: https://bit.ly/3gkhS3U
Facebook: https://bit.ly/3l67kJd
Soundcloud: https://bit.ly/32bvkC9
Apple Podcast: https://apple.co/3j7aomn
Google Podcast: https://bit.ly/3gcSXiE
Did you know we give away tickets for all of the home Tennessee Volunteer games? If you are interested in entering click the link below! Completely free, we want to give back to our awesome clients & potential clients!