Though the housing market is no longer experiencing the frenzy of a year ago, buyers are showing their interest in purchasing a home. According to U.S. News:
"Housing markets have cooled slightly, but demand hasn't disappeared, and in many places remains strong largely due to the shortage of homes on the market."
That activity can be seen in the latest ShowingTime Showing Index, which is a measure of buyers actively touring available homes (see graph below):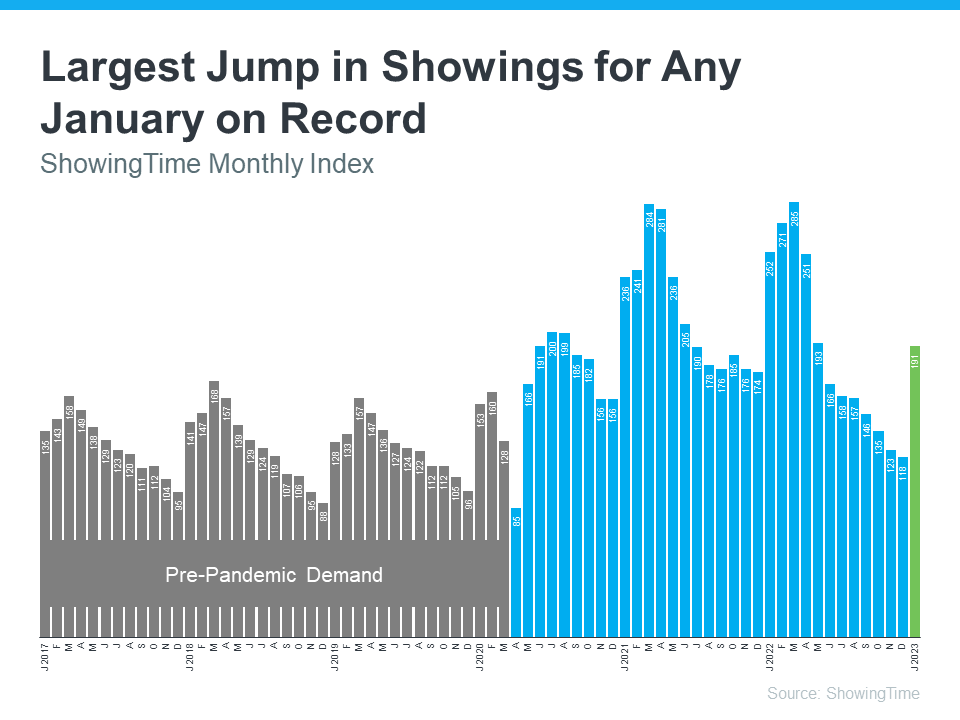 The 62% jump in showings from December to January is one of the largest on record. There were also more showings in January than in any other month since last May. As you can see in the graph, it's normal for showings to increase early in the year, but the jump this January was larger than usual, and a lot of that has to do with mortgage rates. Michael Lane, VP of Sales and Industry at ShowingTime+, explains:
"It's typical to see a seasonal increase in home showings in January as buyers get ready for the spring market, but a larger increase than any January before after last year's rapid cooldown is significant. Mortgage rate activity this spring will play a big role in sales activity, but January's home showings are a positive sign that buyers are getting back out there . . ."
It's important to note that mortgage rates hovered in the low 6% range in January, which played a role in the high number of showings. What does this mean? When mortgage rates eased, buyer interest climbed. The jump in home showings early this year makes one thing clear – while rates may be volatile right now, there are interested buyers out there, and when mortgage rates are favorable, they're ready to make their move.
Bottom Line
An increase in showing activity in January is a good sign that there are buyers who are eager to purchase a home. If you're thinking of selling your house, let's talk so you're ready when the time is right for you.
If you're ready to jump into the market and take advantage of the increasing supply of homes hitting the Tennessee Housing Market, let's connect today. The opportunity in the Knoxville market is knocking, will you answer? Give your Hometown Experts a call so you have expert advice on your specific situation during today's market. 865-693-SOLD (7653)
Check out our latest show!
Ryan Coleman discusses the various hidden costs that come with owning a home in Knoxville, Tennessee. He emphasizes that owning a home involves more than just paying a mortgage, and that homeowners must be prepared to cover additional expenses such as property taxes, homeowners insurance, maintenance, and repairs. Coleman also provides tips on how homeowners can save money by being proactive and planning ahead for these expenses.
Subscribe Here: https://www.youtube.com/channel/UC1c4z7IVs5rIs0QxWXCibAw?sub_confirmation=1
Click here for links to our Radio Show!
Check your home's value by visiting our free home valuation tool here: What's my home worth
Hometown Realty is a Proud Sponsor of the Tennessee Volunteers:
As Tennessee's Realtor®, we are proud to partner with the University of Tennessee's athletic program each year. Our partnership with UT athletics is a powerful way for us to align our brand with the community pride and passion that surrounds this beloved institution. By supporting UT athletics, we demonstrate our commitment to not only providing exceptional real estate services but also investing in the success and growth of the community we serve. Overall, our partnership with the University of Tennessee's athletic program allows us to give back to the community we are proud to call home.
Did you know we are giving away free tours of the Tennessee Athletics Departments at UT? If you are one of our great clients give us a call to set up an exclusive VIP tour! For more information visit the VIP TOUR page! This is completely free, we want to give back to our awesome clients & potential clients!