A recession does not equal a housing crisis. That's the one thing that every homeowner today needs to know. Everywhere you look, experts are warning we could be heading toward a recession, and if true, an economic slowdown doesn't mean homes will lose value.
The National Bureau of Economic Research (NBER) defines a recession this way:

"A recession is a significant decline in economic activity spread across the economy, normally visible in production, employment, and other indicators. A recession begins when the economy reaches a peak of economic activity and ends when the economy reaches its trough. Between trough and peak, the economy is in an expansion."
To help show that home prices don't fall every time there's a recession, take a look at the historical data. There have been six recessions in this country over the past four decades. As the graph below shows, looking at the recessions going all the way back to the 1980s, home prices appreciated four times and depreciated only two times. So, historically, there's proof that when the economy slows down, it doesn't mean home values will fall or depreciate.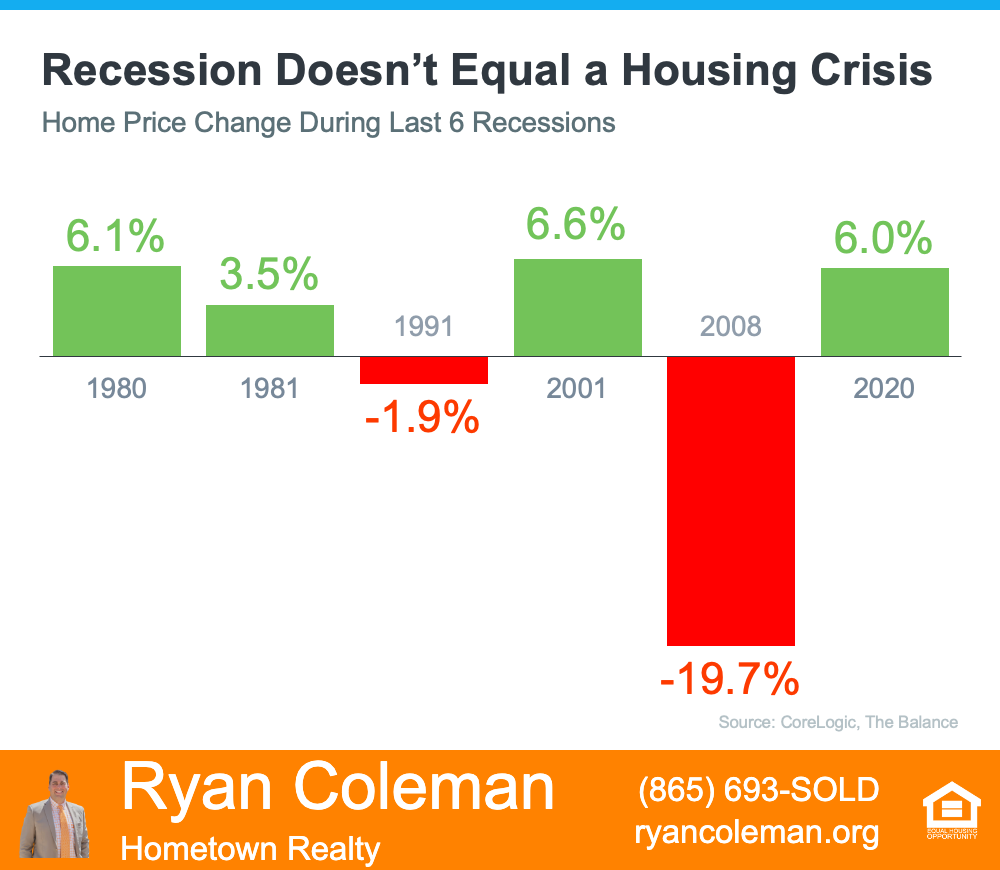 The first occasion on the graph when home values depreciated was in the early 1990s when home prices dropped by less than 2%. It happened again during the housing crisis in 2008 when home values declined by almost 20%. Most people vividly remember the housing crisis in 2008 and think if we were to fall into a recession that we'd repeat what happened then. But this housing market isn't a bubble that's about to burst. The fundamentals are very different today than they were in 2008. So, we shouldn't assume we're heading down the same path.
Bottom Line
We're not in a recession in this country, but if one is coming, it doesn't mean homes will lose value. History proves a recession doesn't equal a housing crisis. If you are looking to buy or sell in the East Tennessee area, give your Hometown Experts a call! (865) 693-7653

Real Estate With Ryan
🎙 Join Ryan Coleman Broker/Owner of Hometown Realty and host of REWR every Saturday @ 11am on Talk Radio 92.3 / AM 760 WETR and at 1pm on News Talk 98.7 🎙⁠
Be sure to download the Talk Radio and News Talk apps to listen on the go!
Talk Radio: https://apple.co/37q7lAu
News Talk: https://apple.co/3aHkXth
⁠
You can watch past live streams on other Social Media channels:⁠
YouTube: https://bit.ly/3gkhS3U
Facebook: https://bit.ly/3l67kJd
Soundcloud: https://bit.ly/32bvkC9
Apple Podcast: https://apple.co/3j7aomn
Google Podcast: https://bit.ly/3gcSXiE
Did you know we give away tickets for all of the home Tennessee Volunteer games? If you are interested in entering click the link below! Completely free, we want to give back to our awesome clients & potential clients!