One of the benefits of being a homeowner is that you build equity over time. By selling your house, that equity can be used toward purchasing your next home. But before you can put it to use, you should understand exactly what equity is and how it grows. Bankrate explains it like this:
"Home equity is the portion of your home you've paid off – in other words, your stake in the property as opposed to the lender's. In practical terms, home equity is the appraised value of your home minus any outstanding mortgage and loan balances."
Majority of Americans Have a Large Amount of Equity
If you've owned your home for a while, you've likely built up some equity – and you may not even realize how much. Based on data from the U.S. Census Bureau and ATTOM, the majority of Americans have a substantial amount of equity right now (see graph below):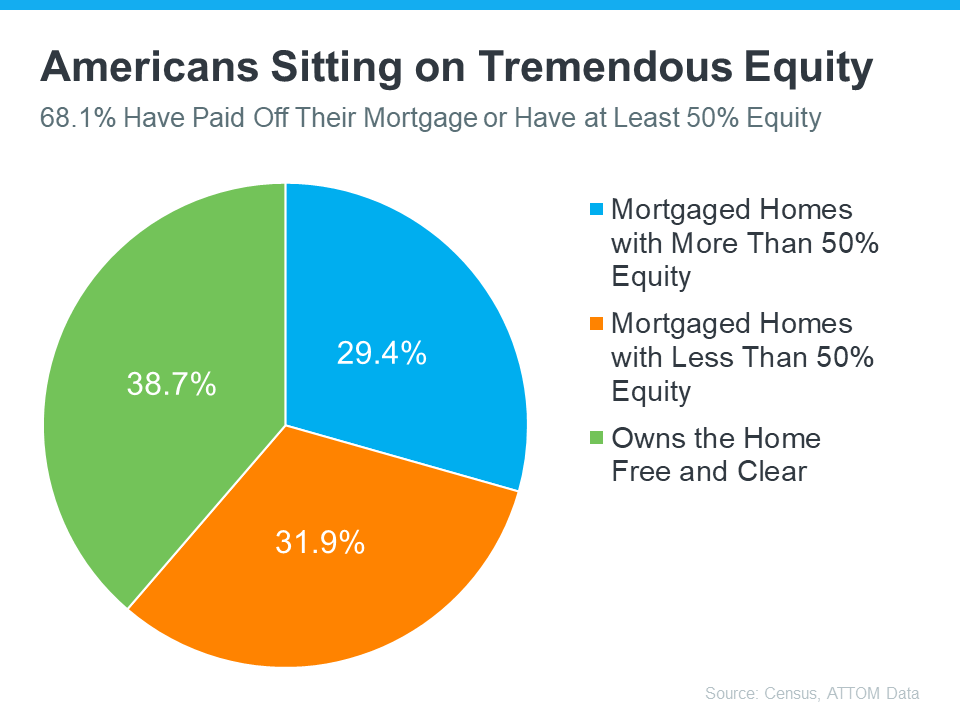 And having such large amounts of equity is a benefit to homeowners in more ways than one. Rick Sharga, Executive Vice President of Market Intelligence at ATTOM, explains:
"Record levels of home equity provide security for millions of families, and minimize the chance of another housing market crash like the one we saw in 2008."
Over time, your home equity grows. In addition to providing financial stability while you own your house, when you're ready to sell it, that money could go a long way toward paying for your next home.
Bottom Line
By selling your house and leveraging your equity, it can be easier to pay for your next home. Let's connect today so you can find out how much home equity you have and start planning your next move.
If you're ready to jump into the market and take advantage of the increasing supply of homes hitting the Tennessee Housing Market, let's connect today. The opportunity in the Knoxville market is knocking, will you answer? Give your Hometown Experts a call so you have expert advice on your specific situation during today's market. 865-693-SOLD (7653)
Check out our latest show!
Join Ryan Coleman of Hometown Realty as he shares valuable insights and tips on investing in Knoxville's real estate market. Whether you're a seasoned investor or just starting out, this video is packed with information that will help you navigate the market and make informed decisions. From understanding local trends to identifying the best neighborhoods, Ryan covers it all. Don't miss out on the opportunity to learn from one of the best in the business! Be sure to like/subscribe https://www.youtube.com/channel/UC1c4z7IVs5rIs0QxWXCibAw?sub_confirmation=1
Click here for links to our Radio Show!
Check your home's value by visiting our free home valuation tool here: What's my home worth
Hometown Realty is a Proud Sponsor of the Tennessee Volunteers:
As Tennessee's Realtor®, we are proud to partner with the University of Tennessee's athletic program each year. Our partnership with UT athletics is a powerful way for us to align our brand with the community pride and passion that surrounds this beloved institution. By supporting UT athletics, we demonstrate our commitment to not only providing exceptional real estate services but also investing in the success and growth of the community we serve. Overall, our partnership with the University of Tennessee's athletic program allows us to give back to the community we are proud to call home.
Did you know we are giving away free tours of the Tennessee Athletics Departments at UT? If you are one of our great clients give us a call to set up an exclusive VIP tour! For more information visit the VIP TOUR page! This is completely free, we want to give back to our awesome clients & potential clients!