If you're thinking of making a move, one of the biggest questions you have right now is probably: what's happening with home prices? Despite what you may be hearing in the news, nationally, home prices aren't falling. It's just that price growth is beginning to normalize. Here's the context you need to really understand that trend.
In the housing market, there are predictable ebbs and flows that happen each year. It's called seasonality. Spring is the peak homebuying season when the market is most active. That activity is typically still strong in the summer but begins to wane as the cooler months approach. Home prices follow along with seasonality because prices appreciate most when something is in high demand.
That's why there's a reliable long-term home price trend. The graph below uses data from Case-Shiller to show typical monthly home price movement from 1973 through 2022 (not adjusted, so you can see the seasonality):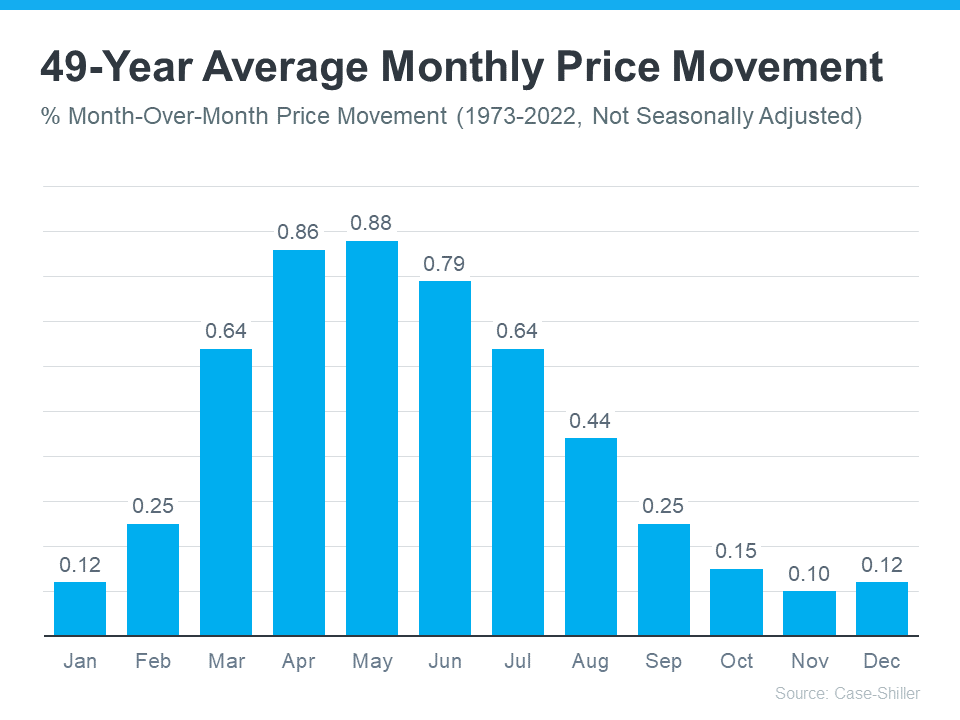 As the data shows, at the beginning of the year, home prices grow, but not as much as they do in the spring and summer markets. That's because the market is less active in January and February since fewer people move in the cooler months. As the market transitions into the peak homebuying season in the spring, activity ramps up, and home prices go up a lot more in response. Then, as fall and winter approach, activity eases again. Price growth slows, but still typically appreciates.
After several unusual 'unicorn' years, today's higher mortgage rates helped usher in the first signs of the return of seasonality. As Selma Hepp, Chief Economist at CoreLogic, explains:
"High mortgage rates have slowed additional price surges, with monthly increases returning to regular seasonal averages. In other words, home prices are still growing but are in line with historic seasonal expectations."
Why This Is So Important to Understand
In the coming months, you're going to see the media talk more about home prices. In their coverage, you'll likely see industry terms like these:
Appreciation: when prices increase.
Deceleration of appreciation: when prices continue to appreciate, but at a slower or more moderate pace.
Depreciation: when prices decrease.
Don't let the terminology confuse you or let any misleading headlines cause any unnecessary fear. The rapid pace of home price growth the market saw in recent years was unsustainable. It had to slow down at some point and that's what we're starting to see – deceleration of appreciation, not depreciation.
Remember, it's normal to see home price growth slow down as the year goes on. And that definitely doesn't mean home prices are falling. They're just rising at a more moderate pace.
Bottom Line
While the headlines are generating fear and confusion on what's happening with home prices, the truth is simple. Home price appreciation is returning to normal seasonality. If you have questions about what's happening with prices in our local area, let's connect.
Check out our latest show!
Ryan Coleman from Hometown Realty shares valuable insights on the topic of moving from East Tennessee to another state. 🏡 Exploring Interstate Relocation: Ryan discusses the key considerations and steps involved in successfully relocating to another state from East Tennessee. Whether it's for work, family, or a fresh start, this video provides essential guidance. 💡 Navigating Real Estate Transitions: Learn how to handle your current property when moving to another state. Ryan offers tips for selling, renting, or managing your East Tennessee property from a distance. 📦 Packing Up and Settling In: Discover practical advice for a smooth transition, from packing tips to settling into your new home. Ryan's insights can help you navigate the challenges of moving to a new state.
Be sure to like/subscribe https://www.youtube.com/channel/UC1c4z7IVs5rIs0QxWXCibAw?sub_confirmation=1
Click here for links to our Radio Show!
Check your home's value by visiting our free home valuation tool here: What's my home worth
Hometown Realty is a Proud Sponsor of the Tennessee Volunteers:
As Tennessee's Realtor®, we are proud to partner with the University of Tennessee's athletic program each year. Our partnership with UT Athletics is a powerful way for us to align our brand with the community pride and passion that surrounds this beloved institution. By supporting UT athletics, we demonstrate our commitment to not only providing exceptional real estate services but also investing in the success and growth of the community we serve. Overall, our partnership with the University of Tennessee's athletic program allows us to give back to the community we are proud to call home.
Did you know we are giving away free tours of the Tennessee Athletics Departments at UT? If you are one of our great clients give us a call to set up an exclusive VIP tour! For more information visit the VIP TOUR page! This is completely free, we want to give back to our awesome clients & potential clients!