When you look at the numbers today, the one thing that stands out is the strength of this housing market. We can see this is one of the most foundationally strong housing markets of our lifetime – if not the strongest housing market of our lifetime. Here are two fundamentals that prove this point.
1. The Current Mortgage Rate on Existing Mortgages
First, let's look at the current rate on existing mortgages. According to the Federal Housing Finance Agency (FHFA), as of the fourth quarter of last year, over 80% of existing mortgages have a rate below 5%. That's significant. And, to take that one step further, over 50% of mortgages have a rate below 4% (see graph below):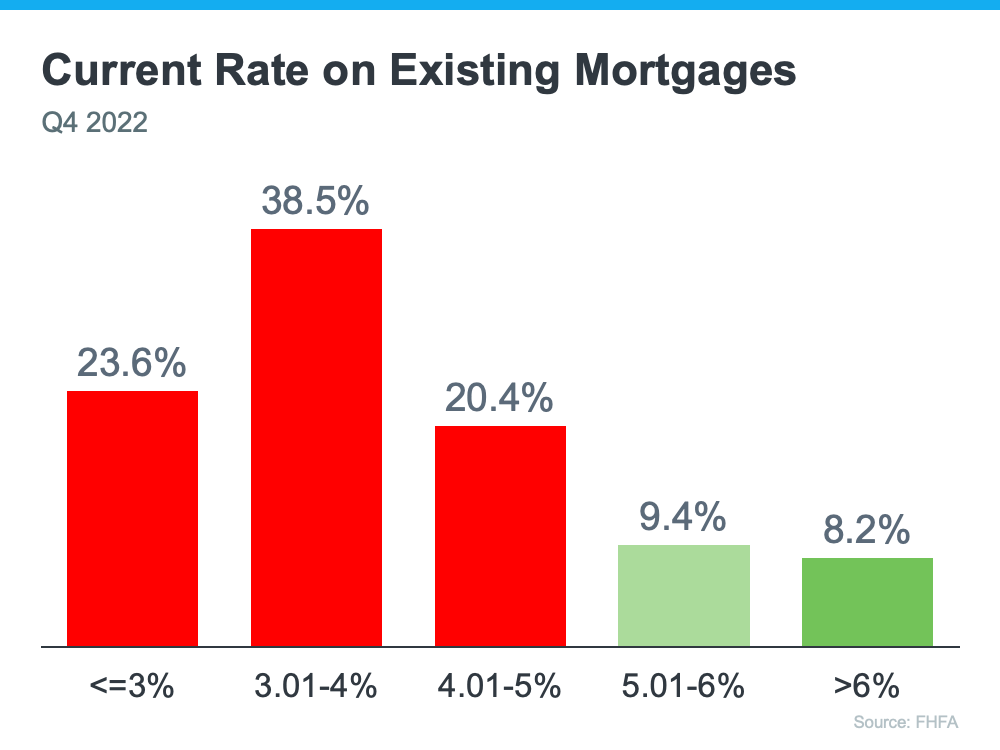 Now, there's a lot of talk in the media about a potential foreclosure crisis or a rise of homeowners defaulting on their loans, but consider this. Homeowners with such good mortgage rates are going to work as hard as they can to keep that mortgage and stay in their homes. That's because they can't go out and buy another house, or even rent an apartment, and pay what they do today. Their current mortgage payment is more affordable. Even if they downsize, with today's higher mortgage rates, it could cost more.
Here's why this gives the housing market such a solid foundation today. Having so many homeowners with such low mortgage rates helps us avoid a crisis with a flood of foreclosures coming to market like there was back in 2008.
2. The Amount of Homeowner Equity
Second, Americans are sitting on tremendous equity right now. According to the Census and ATTOM, roughly two-thirds (around 68%) of homeowners have either paid off their mortgage or have at least 50% equity (see chart below):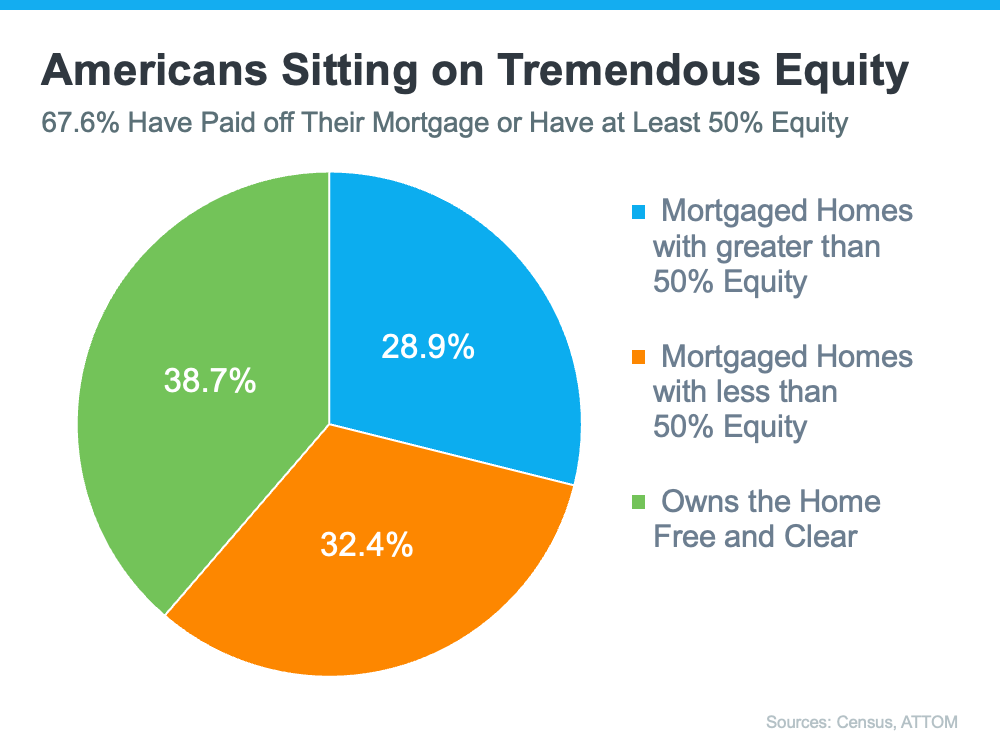 In the industry, the term for this is equity rich. This is significant because if you think back to 2008, some people had to make the difficult decision to walk away from their homes because they owed more on the home than it was worth.
But this time, things are different because homeowners have built up so much equity over the past few years alone. And, when homeowners have that much equity, it helps us avoid another wave of distressed properties coming onto the market like we saw during the crash. It also creates an extremely strong foundation for today's housing market.
Bottom Line
We are in one of the most foundationally strong housing markets of our lifetime because homeowners are going to fight to keep their current mortgage rate and they have a tremendous amount of equity. This is yet another reason things are fundamentally different than in 2008.
Check out our latest show!
The must-know insights for selling a property in Knoxville, TN. Whether you're a first-time seller or have prior experience, Ryan provides valuable tips and advice to help you navigate the Knoxville real estate market with confidence. From understanding local market trends to pricing your home competitively and effectively marketing your property, Ryan covers essential aspects that can make a significant difference in your selling journey. Don't miss this opportunity to gain valuable knowledge and maximize your chances of a successful sale in Knoxville, TN.
Be sure to like/subscribe https://www.youtube.com/channel/UC1c4z7IVs5rIs0QxWXCibAw?sub_confirmation=1
Click here for links to our Radio Show!
Check your home's value by visiting our free home valuation tool here: What's my home worth
Hometown Realty is a Proud Sponsor of the Tennessee Volunteers:
As Tennessee's Realtor®, we are proud to partner with the University of Tennessee's athletic program each year. Our partnership with UT Athletics is a powerful way for us to align our brand with the community pride and passion that surrounds this beloved institution. By supporting UT athletics, we demonstrate our commitment to not only providing exceptional real estate services but also investing in the success and growth of the community we serve. Overall, our partnership with the University of Tennessee's athletic program allows us to give back to the community we are proud to call home.
Did you know we are giving away free tours of the Tennessee Athletics Departments at UT? If you are one of our great clients give us a call to set up an exclusive VIP tour! For more information visit the VIP TOUR page! This is completely free, we want to give back to our awesome clients & potential clients!