What's More Important | Location or Size??
Watch Real Estate With Ryan HERE!!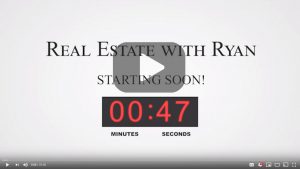 When you are purchasing your next home should you get more square footage and space or should you focus more on location, location, location?
How do you balance between the both of them, what is more important, space for kids or being close to shopping, church, friends, schools for kids.
What do you think is important?
Talk about location, is it the amenities, what's more important, location, square footage, school district good price, perfect lot. The reality sets in, there is always a price tag on what you want. There is always a compromise, and you must sometimes try and sell your home before buying another one.
First thing you want to talk about is where your family is today, size of family, if its big then you need the space! 5 kids you need a bigger home! You have a growing family, homeschooling, when you start going into your home and there is no privacy then you have to expand.
Space is very, very important. Obviously you want the best location but you also have to not just look at NOW but also where your family will be in the future. You can always choose the right size in a lower price rang and always update a home. You can do a potential property with TLC or you can buy a move in ready home. Take advantage of the price on that potential fixer home. Look at your budget and see where you can get some equity and get the best and most space for the best price.
What if you already have a large family, is it harder to go back down in size? What do you do when you have that larger family and you are switching from private schools but want to be close to public schools and location wise it makes more sense but the price point is expensive? How do we compromise that. Look at the inventory coming up and look for the fixer uppers.
What if you are a bigger family? Step up your price tag but you don't want to open up that wallet and want to stay in the 20 year mortgage and don't want to go up to 30 year mortgage because you will be paying double. How do you relocate as a big family? You have to make the best decision for your family. Is your school zone the best for your kids? Your daughter has a baby? They want to be close to their grand babies. The location and drive and proximity is very important to the grandparents so they can help and stay close.
What if you are downsizing into a different space? We don't need all that space anymore. Most people only use 4 or 5 rooms in their house anyways! The condo market is great because you don't have to take care of their yard and a larger home. Price point has seemed to be more important than convenience for most families. The budget is the biggest factor. You want to be able to find a happy medium. You might have to go a little further out location wise to stay with in your budget. Sometimes being closer to the family is important.
Catch Real Estate with Ryan Every Saturday @ 11 AM & 5 PM!