Lenoir City, TN Real Estate & Homes For Sale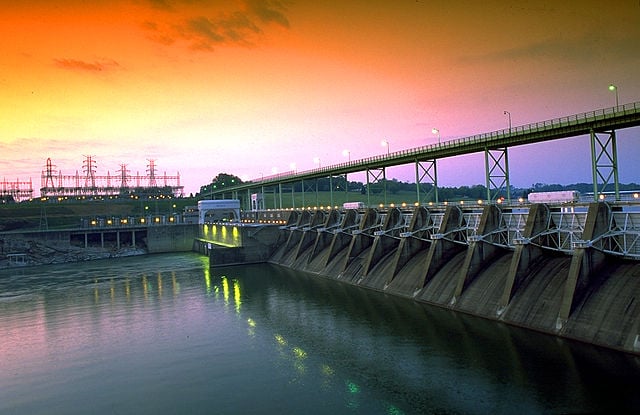 Lenoir City is located southwest of Knoxville in Loudon County. It's home to just over 10,400 residents and is part of the Knoxville Metro area along the Tennessee River. Getting its start in the late 19th century, the city was designed in a four-quadrant master plan design; the northwest quadrant would be a middle-class residential area, the Northeast would be a more blue-collar area, the southwest quadrant would contain more steelworks in industrial factories and the southeast quadrant would contain more woodworking and canning factories.
During the start of the 20th century, the city implemented more garden and park areas with the movement of more health and temperance. Beginning in the 1930s, the federal government boosted the city's economy with the construction of the Fort Loudoun Dam and reservoir. This provided hundreds of local jobs and a number of road improvements to the area. The interstate highway system was developed in the 1950s bringing in more folks from the Knoxville area into the more suburban community of Lenoir City. During the early 2000s, Lenoir City continued to grow economically with more restaurants, major box stores like the Home Depot, and the Fort Loudoun Medical Center.
In the lovely area of Lenoir City resides 10,484 people where 60% are homeowners. With an average age of 38, the residents of Lenoir City are well established, with many growing families of all ages. Over the recent months roughly 62 homes have been sold with an average sold price of $364,397. That is an increase of $65,047 from the previous period.
Average Sale Price (180 days)
$0
+ $0
from the previous 180 day period.
Recent Sales
In the past
180 days
there have been
0

home sales
in the area.
Learn more about Lenoir City

Best Things to Do and See in Lenoir City
The Fort Loudon Marina is located next to the dam where three rivers, the lake, Watts Bar Lake, and Tellico Lake meet at the Tennessee River. From food and water activities to boating and fishing, this is a great spot to enjoy the weekend.
Lenoir City is a throwback to history with several museums and an old-fashioned Cotton Mill Site. In the early 20th century, Lenoir City was just one railroad stop and you can learn a lot about history at the Lenoir City Museum & Cotton. There are artifacts about the city as well as glimpses into what life was like in the early 20th century.
If you're looking for a great barbecue, Aubrey's makes one of the meanest burgers, ribs, and desserts in town. Buddy's BBQ comes in as a close competitor to Aubrey's with pulled pork, smoked chicken, and other barbecue staples.
Nature lovers will love to hike the Hall Bend Trail, a 5-mile loop trail that all levels of hikers can explore. The Lenoir City Pool is a great place to cool off in the summer and the Lee Russell Recreation Complex is perfect for the kids to play sports, featuring two baseball fields, a softball field, concession stands, and picnic shelters.
Lenoir City Schools
Lenoir City has both County and city school districts including three elementary schools, two middle schools, and one high school. The Lenoir City elementary school, middle school, and high school are both within the Lenoir City School District and the Eaton elementary school, North middle school, and Highland Park elementary school are part of Loudon County Schools.
FAQs about Lenoir City
How is living in Lenoir City?
Lenoir City is a suburb of Knoxville with a population of 10,484. Lenoir City is in Loudon County. Living in Lenoir City offers residents a sparse suburban feel and most residents own their homes. Many families live in Lenoir City and residents tend to be conservative.
What is the population of Lenoir City?
Lenoir City has a 2023 population of 10,484. Lenoir City is currently growing at a rate of 2.28% annually and its population has increased by 7% since the most recent census, which recorded a population of 10,130 in 2020.
What is the climate in Lenoir City?
The hot season lasts for 3.9 months, from May 24 to September 20, with an average daily high temperature above 80°F. The hottest month of the year in Lenoir City is July, with an average high of 88°F and low of 69°F. The cold season lasts for 2.9 months, from November 29 to February 25, with an average daily high temperature below 56°F. The coldest month of the year in Lenoir City is January, with an average low of 32°F and high of 48°F.
What is the cost of living in Lenoir City?
The cost of living in Lenoir City, TN is about 14% lower than the national average. The median household income in Lenoir City is $45,987.
How are the healthcare facilities in Lenior City?

Lenoir City has many health facilities nearby, including Fort Loudon Medical Center which is 2.3 mi only from the city, Parkwest Medical Center 13 mi, and Methodist Medical Center of Oak Ridge 16 mi.
How is the transportation in Lenoir City?
Lenoir City offers easy access to public transportation so that residents can get around town with ease. The Lenoir City Transit System provides bus service to various locations throughout the city. This includes regular trips to nearby cities such as Knoxville and Chattanooga. There are also several taxi companies available for hire in Lenoir City which offer services to both locals and visitors alike.
Occupancy
Age
Employment
Education
Lenoir City Real Estate
Lenoir City offers that suburban feel with a lot of recreation and outdoor activities. 50% of the town's residents are homeowners and the other 50 are renters. There's a median home value of about $125,000 with a median rent of about $830. You'll find homes priced from under $100,000 to over $300,000 and your money tends to run farther than in downtown Knoxville.
"I love the small town feel of Lenoir City with the convenience of Knoxville being so close. I have lived in Lenoir City my entire life and my parents have both grown up in Loudon County. I went to the Loudon County Schools for elementary and middle school, Eaton Elementary School and North Middle School. And I am currently enrolled in Lenoir City High School with plans to graduate in May 2021. I have enjoyed all of my years in these schools. The education has been tailored to my needs and the teachers and administrative staff have always been very supportive. Most of my extended family (grandparents, aunts, uncles, and cousins) live in Loudon County. I would recommend Loudon County to anyone who likes the idea of a small, close-knit town that is family friendly, but also has access to a big city like Knoxville that is only about 15 minutes away. Knoxville is close enough that one doesn't have to drive far to big events, but far enough away that you don't have that big city living." – Niche.com
for more information on homes for sale in Lenoir City TN browse available listings on our website or simply contact our office at any time to schedule a showing, a virtual tour, or for more details.
Want the full market report for Lenoir City?
We want to ensure that you have all the information needed to make the best decisions when it comes to your home goals. When you enter your info below, you will get instant access to area's the latest market report complete with sales and demographic trends.
Lenoir City
Market Report